Introduction
The email address associated with your account is especially important. We will send you valuable information like notifications and/or newsletters to this address based on the settings enabled on your profile. The Customer Support team will also use this email address to verify account ownership when you raise Customer Support tickets.
The email address on your profile does not impact your login method(s). If you wish to change the login method (for example, you wish to change the Google email associated to your D&D Beyond account), you will need to update the associated login method on the Account Page.
View Your Email Address
You can view the current email address listed for your D&D Beyond account on the Email Preferences page. From here you will also be able to Update your email preferences for newsletters, announcements, and other emails. Alternatively, you can also unsubscribe from these types of emails.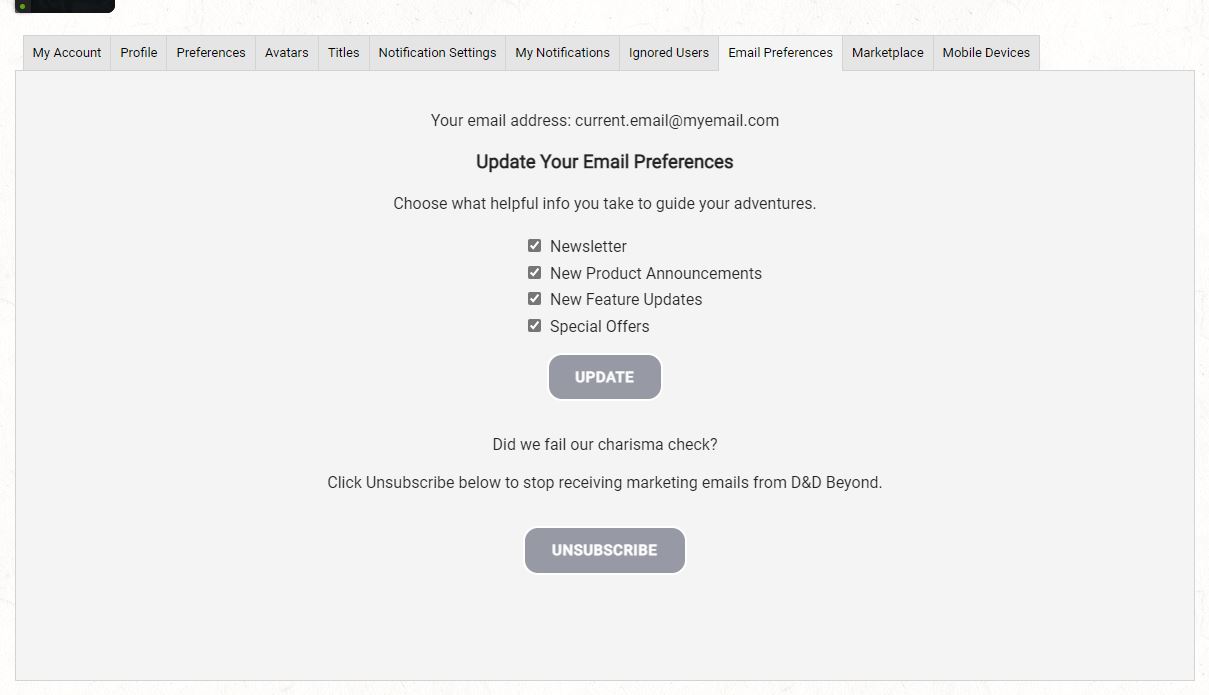 Updating Your Email Address
Currently we do not allow a user to update this email address themselves, as we will use this email address as a verification step when you raise a support ticket. To update you will need to request this from Customer Support:
Raise a Customer Support Request
We ask that you raise the request against the current email address on the account (for verification). If you no longer have access to this email, please raise the ticket against your new email and ensure you include your old email address in the description.
Be sure to include your username/display name
With the "What can we help you with" drop down - please select Account Assistance > Other.
In your description, advise the current email address, the username, and what you would like the new email address to be.
The Support team will ask verification details if you do not include the current email address in the ticket. Once verified, the team will update the email on your D&D Beyond Email Preferences. Once updated, for any future Support tickets, please raise them against the new email.