Now we're going to create a magic item that's also themed to our scenario. We've chosen a set of magical Studded Leather, with shadow powers, which will be on a powerful Shadow Goblin captain (we can create this as a separate monster, based on our Shadow Goblin above)..
From the homebrew landing page, click on the CREATE MAGIC ITEM button.
On the page that follows, we want to select Armor from the MAGIC ITEM TYPE box and then within the MAGIC ITEM box, select Studded Leather, +1 which will be the template we use for our item. Once these are selected, click the blue [ CREATE ] button.

The next page has a number of fields and is where we make the changes to our magic item, to make it what we want. It should look something like this at this point: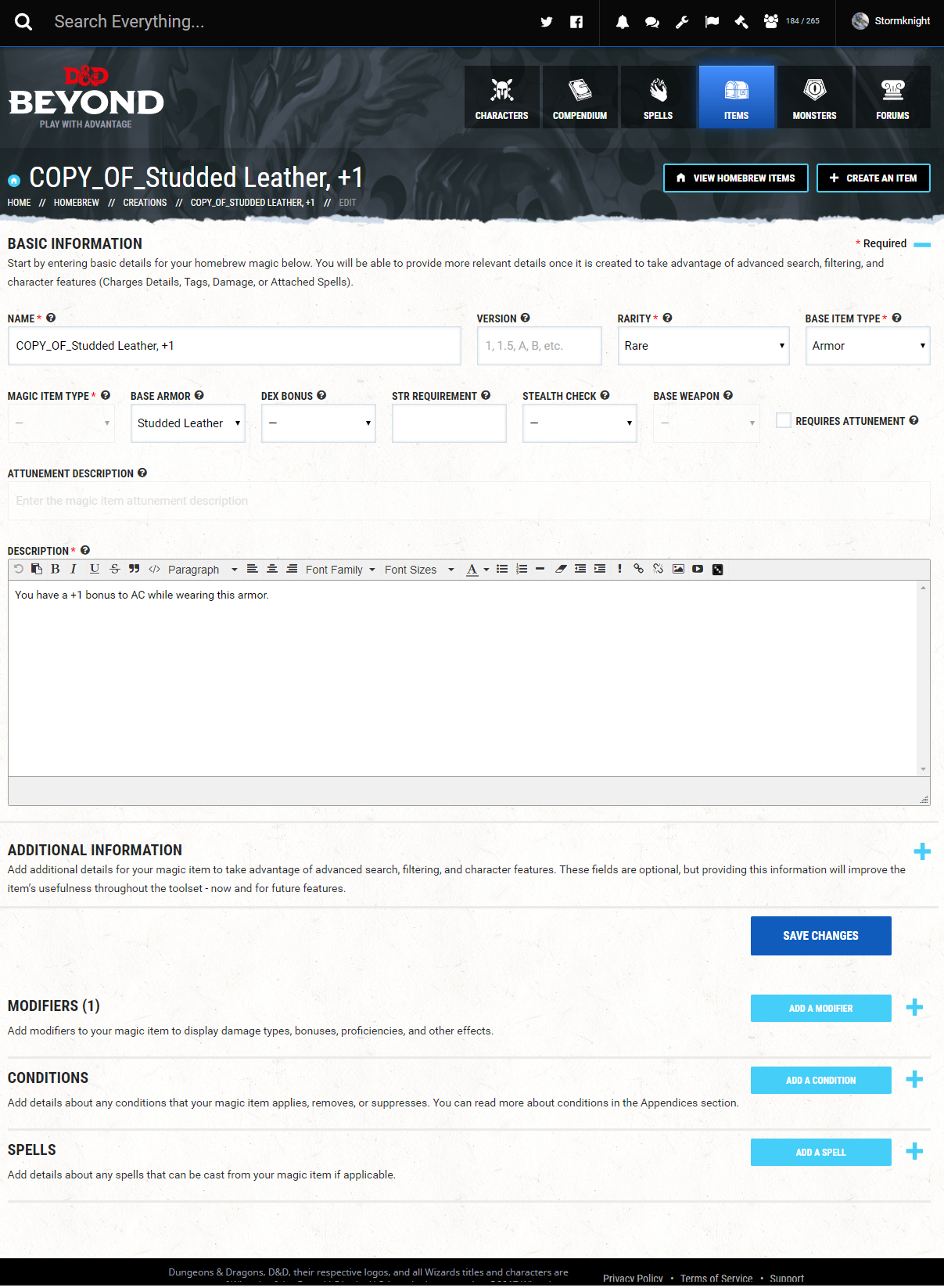 So, let's make some changes, to make our magic item!
Step 1 - NAME. As a default, because we created this item from a template, it's called, "COPY_OF_Studded Leather, +1" so we click in the field and change that text to what we wish the name to be. In this example, we'll call the item, "Studded Leather of Shadow Aura" describing what the item does.
Note - we're not going to change the following fields, because they're already defined by the fact that the item is Studded Leather: DEX BONUS, STR REQUIREMENT, STEALTH CHECK. These fields are designed to only be used when the magic item has properties that are different to the base armour type.

Step 2 - REQUIRES ATTUNEMENT. We've decided that anyone using this armour must attune to it, to gain access to its magical powers. We click on the checkbox next to REQUIRES ATTUNEMENT, so that it has a green tick in it. We don't have to provide specific information about the attunement process, as that is covered in the rules for attunement. In this case, we want to provide some limitations, so in the ATTUNEMENT DESCRIPTION field, we enter the following text, "Can be attuned to by anyone able to use light armour, who also has proficiency in the Stealth skill."

Step 3 - DESCRIPTION. This is both the description of the item (what it looks like) and also the description of the powers and abilities of the item. We've decided that, as well as functioning as a suit of +1 Studded Leather, we want the item to confer two additional powers to the wearer, if they are attuned to it. Whilst we will specifically add these powers to the item below, we want to describe them here as well. The abilities we're adding are:
Increased Agility. The armour provides a +2 bonus to the Dexterity score of the wearer, to a maximum of 20.
Obfuscated Presence. While wearing the armour, in an area of dim light or darkness, you can use your action to cast Pass Without Trace on yourself. You may end the spell prematurely by using a bonus action.

Now is a really good time to hit that "SAVE CHANGES" button, if you haven't done so!
Step 3 - ADDITIONAL INFORMATION. Clicking on this section causes it to expand. There are a number of fields here, concerning charges, which we are not interested in for this item. There are a couple of fields we are interested in though: LARGE AVATAR and MAGIC ITEM TAGS.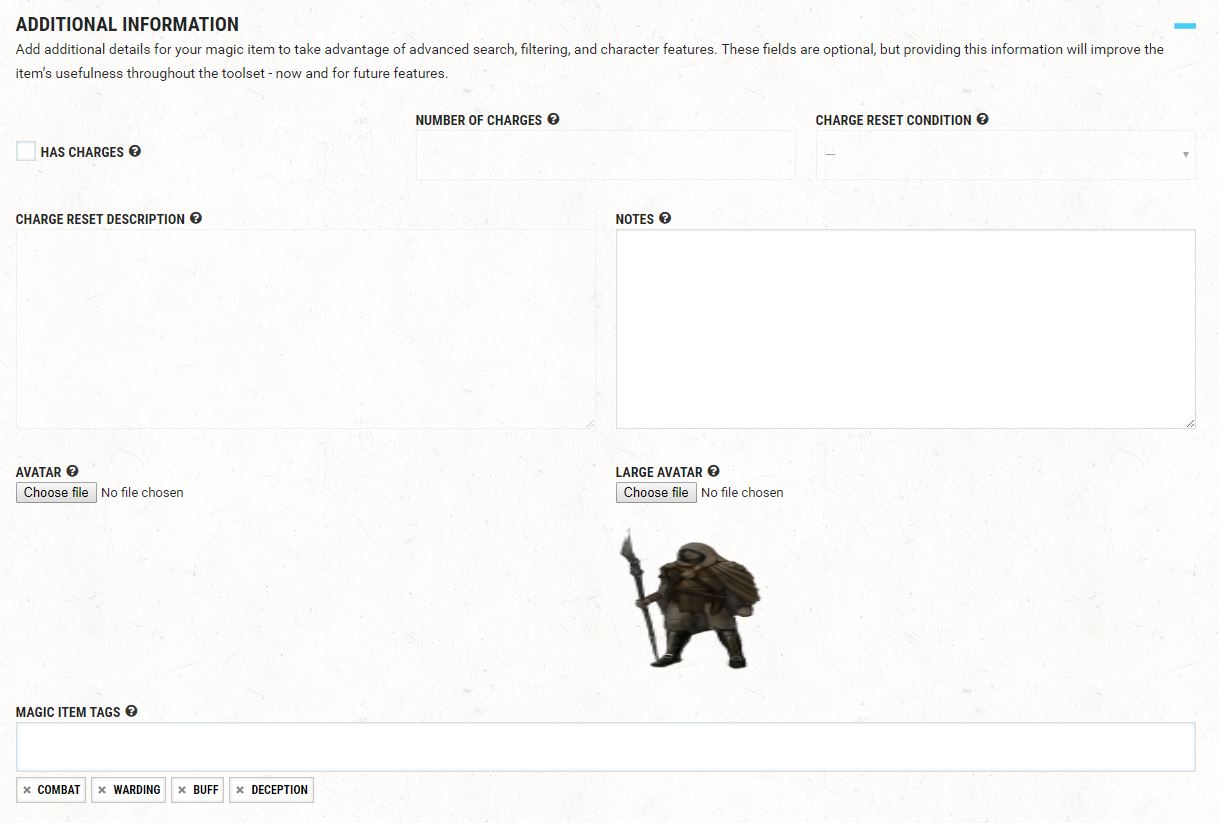 Step 4 - LARGE AVATAR. We're going to add an image of our armour, that will appear when we look at the entry on D&D Beyond. If you're an artist, go ahead and create some art for your item, but if you're like me and not very good at art, then Google Advanced Image Search is your friend. Go to the search page and then scroll down to "usage rights" and set that to "Free to use or share" so that we're only going to find images that are free from copyright. Then enter your search terms in the "Find images with" section at the top and start the search. I found a nice image that someone kindly drew and placed on the internet, free for use, which I edited slightly to make it darker in colour. However you arrive at your image, make sure it is smaller than 1000 pixels by 1000 pixels, then click on the [ Choose File ] button underneath LARGE AVATAR. Find the image file with the dialog and open it.
Make sure to click the "SAVE CHANGES" button and the image will be uploaded and saved.
Step 5 - MAGIC ITEM TAGS. As we intend to submit this creation as Public Homebrew, we really need to ensure that the item has the correct tags, so that people can find it when searching for items. In this case, it already has the tags COMBAT and WARDING due to the template we used. We're going to go ahead and add a further two tags. Click in the MAGIC ITEM TAGS field and start typing the text "BUFF" - you will see that two options become available for us to click on: BUFF and DEBUFF. Click on BUFF and it will be added as a tag. Now do the same again to add the tag DECEPTION.
If you want to know what tags are available, take a look at the Magic Items page and click in the TAGS field.
Click the "Save Changes" button again, to ensure the item is saved before we move on.
Step 6 - MODIFIERS. Click on the MODIFIERS (1) section and it will expand to show the single modifier that has been inherited from the template we used (+1 armour). It should look like this:

We need to add a further modifier though, to represent the Dexterity bonus we described above. To do this, click on the ADD A MODIFIER button. On the page that appears, we need to describe what modifier we are adding. We use the following fields and values:
MODIFIER TYPE - Set this to Bonus. This describes the sort of modifier we are adding.
MODIFIER SUBTYPE - Set this to Dexterity Score. This describes what we're modifying.
FIXED VALUE - Set this to 2. This is the amount we are modifying by.
DETAILS - Enter the text "Maximum of 20." This is a free text field, where we can add any other relevant information for the modifier.
 Your page should now look like below: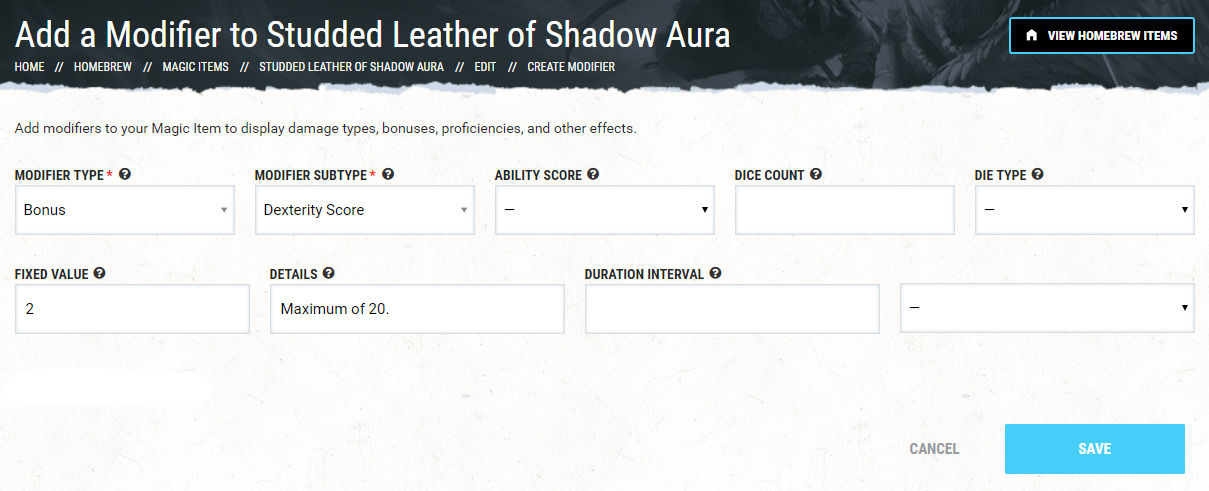 Step 7 - SPELLS. Click on the ADD A SPELL button in the SPELLS section. Here we're going to add the Pass Without Trace spell and then click the SAVE button.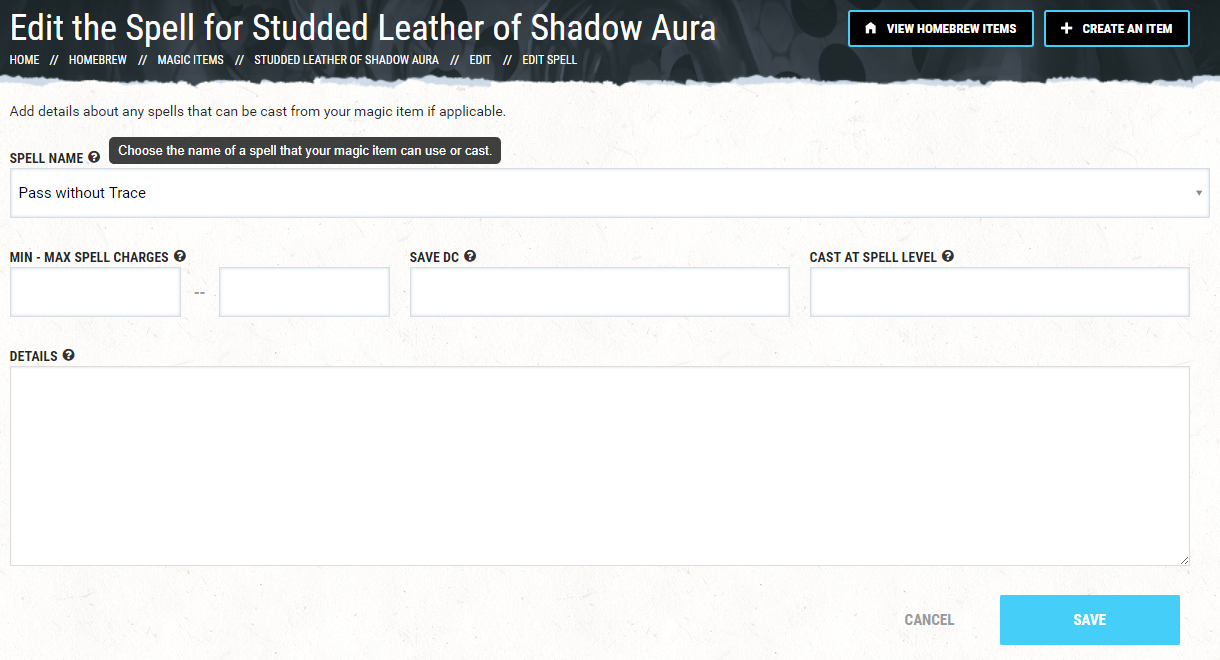 That's it, we're done with creating the item! Click the "SAVE CHANGES" button to ensure everything is saved.
Step 8 - View our item. Head to your Homebrew landing page and click on the VIEW MY HOMEBREW CREATIONS button at the bottom-right. On the next page, you should see our Studded Leather of Shadow Aura item. Click on the item to view it.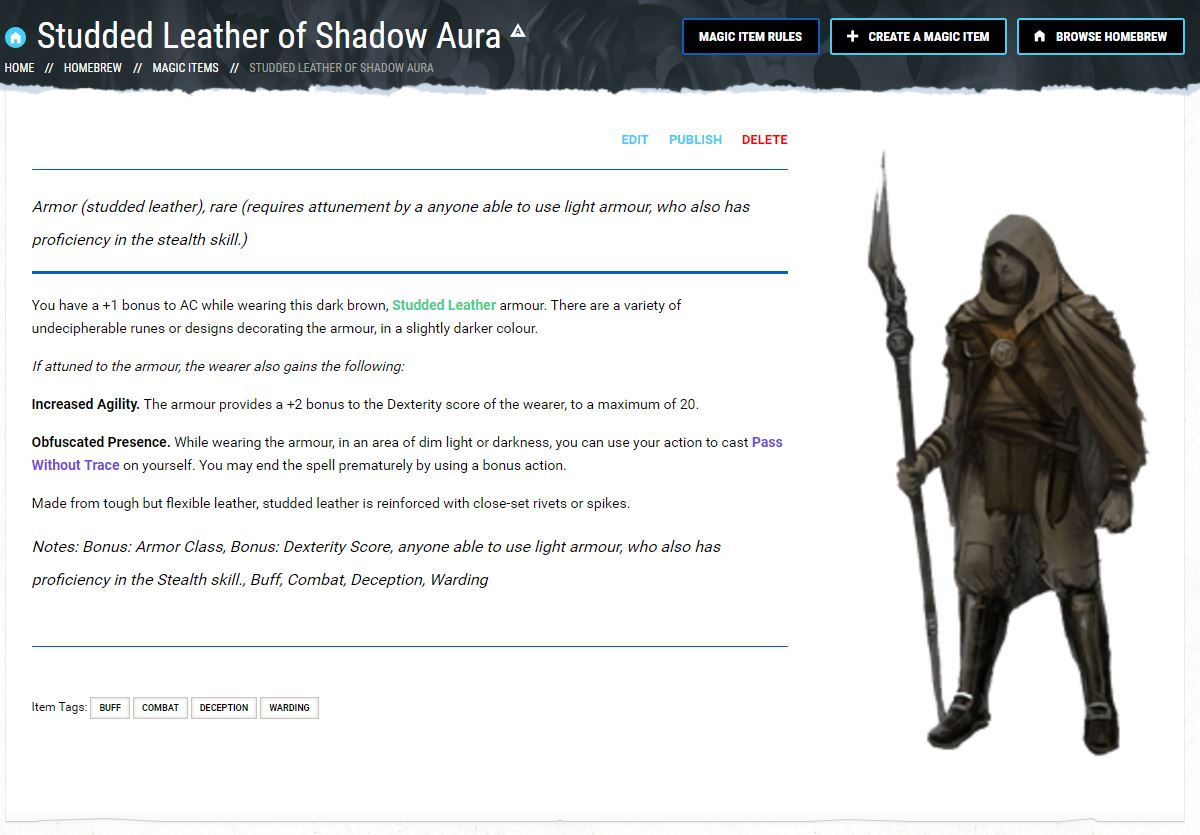 You probably noticed that the text for attunement doesn't read well: "(requires attunement by a anyone able to use light armour, who also has proficiency in the stealth skill.)"
So we need to change it. That's easy - we can go edit our item by clicking on the EDIT link on this page. In this case, we change the ATTUNEMENT DESCRIPTION field to, "creature able to use light armour, that also has proficiency in the Stealth skill." and then hit the SAVE CHANGES button.
Good work - we've created a custom homebrew magic item!